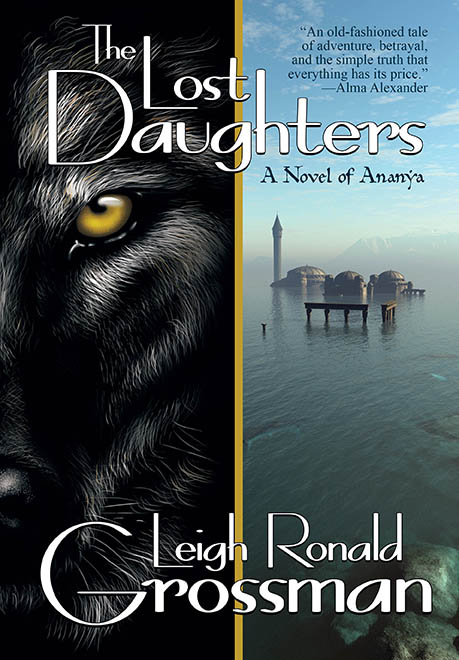 A fantastic story about war, love, gods, and lies. Filled with captivating characters, heartrending betrayals, and excellent worldbuilding!
-Sarah Beth Durst, award-winning author of The Queens of Renthia series
An old-fashioned tale of adventure, betrayal, and the simple truth that everything has its price. This is a classic story of the eternal war waged between mortal men and their eternal and inhuman enemies - malicious and traitorous Gods, spiteful and vicious Fae - we fight it one battle at a time.
-Alma Alexander, author of Changer of Days and Secrets of Jin Shei
Sarah Beth Durst
Award-winning author of The Queens of Renthia series

A fantastic story about war, love, gods, and lies. Filled with captivating characters, heartrending betrayals, and excellent worldbuilding!

For "The Lost Daughters"
Alma Alexander
Author of Changer of Days and Secrets of Jin Shei

An old-fashioned tale of adventure, betrayal, and the simple truth that everything has its price. This is a classic story of the eternal war waged between mortal men and their eternal and inhuman enemies - malicious and traitorous Gods, spiteful and vicious Fae - we fight it one battle at a time.

For "The Lost Daughters"
Frederik Pohl

What is wonderful about this book is that it contains scores and scores of the very best science-fiction stories ever written, as well as other scores of worthwhile poems and essays. … The usual thing one would do to give you an idea of its thoroughgoing coverage of what is essentially the pick of the best sf stories ever is to give examples. That doesn't work here. I tried to check it out by thinking of a story I had admired and then looking to see if it was in the book, More often than not the stories were, and when I read through the list of stories to see how many there were that I would have preferred to omit, there were few.

For "Sense of Wonder: A Century of Science Fiction"
Jane Donawerth
Professor of English and Women's Studies, University of Maryland, author of Frankenstein's Daughters: Women Writing Science Fiction

Sense of Wonder: A Century of Science Fiction, a wonderfully collaborative project, tries to pack it all in and comes very close to succeeding. It has a full range of science fiction from early 19th century to present-day. It offers informative mini-essays on a range of topics, from Gernsback to gender images, from hard science to Black women, from germs to LGBT issues. And it has over thirty women writers, representing every period. The organization into historical periods of science fiction works extremely well, and the appendices on how to write science fiction make this an anthology for every type of course.

For "Sense of Wonder: A Century of Science Fiction"
Production & Editorial Services
Swordsmith offers a full range of production and editorial production services.
Biography
Leigh Ronald Grossman is a writer, college lecturer, editor, and publishing consultant. He teaches in the English Department at the University of Connecticut and does typesetting, book development, and book production for various publishers and authors via his company, Swordsmith Productions. Grossman is the author of sixteen published books, most recently fantasy novel The Lost Daughters. He compiled and edited Sense of Wonder, the largest single-volume science fiction anthology ever produced. Previously, he was a production supervisor at Avon Books, an editor at Byron Preiss Visual Publications/Multimedia, a college-level history and writing instructor, and a reviewer for several genre magazines. Grossman is a frequent speaker on writing and publishing topics at conferences, workshops, libraries, and to school groups, and has often made guest appearances on radio and TV shows. He lives in northeast Connecticut with his wife and young daughter, where he serves as an elected member of two town boards.
As an editor, Grossman's credits include annotated editions of Dracula, Frankenstein, and H. P. Lovecraft's works, Chelsea Quinn Yarbro's 3-volume feminist reworking of Dracula (The Angry Angel, The Soul of an Angel, and The Angel of Death), as well as many other works of literature, science fiction and fantasy, mysteries, and nonfiction.
Grossman currently teaches at the University of Connecticut (writing, book publishing, science fiction, fantasy, and other literature courses in both traditional and online delivery methods), and has previously taught at Rutgers (European history) and Bloomfield College, where he was something of a jack-of-all-trades (American history, women's history, the West in American history, the literature of business, writing and creative writing, etc.). He was one of the original instructors in the weekends at Bloomfield College B.A. Program for Adult Learners. He has a dual B.A. (Temple University, 1988) in history and english, and an M.A. (Rutgers, The State University of NJ, 1990) in modern european history, with a focus on nineteenth-century British history, especially the history of reading.
Grossman's writing credits include fantasy novels The Green Lion and The Golden Thorns; nonfiction works The Red Sox Fan Handbook, The Adult Student's Guide, and The New England Museum Guide; along with several other books, and he was the original review editor for Horror magazine (where he primarily reviewed dark fantasy). He went on to write reviews for Wavelengths and Absolute Magnitude.